Supersigil
"In all chaos there is a cosmos, in all disorder a secret order." — C.G. Jung
Mint a Spectrogram NFT here:
Having issues? Read this minting guide and feel free to DM me on Twitter if you need more help
Spectres—the debut album and virtual world from Supersigil
I'm Supersigil, the digital shadow of composer/producer/guitarist Alex Roth.
I'm psyched to introduce Spectres, my debut album and the first virtual world in the Supersigil galaxy: a series of interconnected album-worlds I'll be building for the rest of my life.
Comprising 13 pieces of experimental electronic music I've been working on over the last five years, the album release is the beating heart of this project, but there's (a lot) more to it…
Drawing on my background as an interdisciplinary collaborator, I have put together an incredible team of meta-architects, character designers, visual artists, choreographers and 3D animators. Together, we will place the 13 tracks at the heart of a truly multidimensional experience.
The concept for the virtual world, and the digital beings you will encounter there, are deeply influenced by my exploration of Jungian psychology and Joseph Campbell's writings on mythological narratives. To step into this world is to delve into one's own psyche, encountering archetypal forces that exist within our collective unconscious.
Spectres is not a concept album—it's a new album concept: a first-of-its-kind world-building adventure reimagining the music release in a web3 environment. In essence, it's immersive music theatre for the metaverse era.
"The cave you fear to enter holds the treasure you seek." — Joseph Campbell
Overview
Orbiting the album-world is a suite of five NFT collections, each contributing uniquely to the Spectres experience. The first collection, Spectrograms, is now minting above.
Once all 169 Spectrograms are collected, the project unfolds in three stages, each of which culminates in a new drop and funds the next phase of activity.
Stage One:
Album mastering
Cover artwork
Music distribution (Spotify, Apple Music, Bandcamp etc)
Promo video
Smart contract development for subsequent drops
PR & marketing
DROP: Music NFTs + album released on streaming platforms
Stage Two:
Fine art Portraits based on the in-world characters (see below)
Secret NFT collection created
DROP: Portrait NFTs
Stage Three:
Virtual environment design and build
Choreography and movement data capture
Character animation
Music videos for each track
Website development
DROP: Music Video NFTs + virtual world manifested!
Beyond Spectres
My vision extends far beyond the release of this album experience. Future Supersigil albums will manifest as new worlds, all interlinked via portals. Collectively, these worlds will form an entire galaxy eventually encompassing the totality of my life's work.
All Spectres NFTs will give holders special benefits when album 2 drops, and so on with every successive album/world. By collecting them, you will be joining me at the outset of this life-long journey, taking the first steps with me.
"We meet ourselves time and again in a thousand disguises on the path of life." — C.G. Jung
Who is Alex Roth?
I'm a composer, guitarist and producer currently based in Kraków, though I was born in Detroit and grew up in London, where I still do a lot of my music-making. My artistic practice is unusually diverse: I've had compositions recorded by renowned ensembles like London Symphony Orchestra and London Sinfonietta; performed at festivals all across Europe, from Dublin to Kyiv; created scores for dance, theatre and film; toured and recorded with numerous bands; released 20+ recordings on labels such as Edition, Whirlwind, Diatribe and NMC. These days I spend a lot of my time making experimental electronic music, which is the focus of this project.
My life has been infused with music from the start: my mother, uncle and two brothers are all musicians, as was my late grandmother. I started playing classical guitar at age 6, but my interests quickly developed beyond the standard repertoire to encompass improvisation, traditional Jewish melodies, and avant-garde composition. As a teenager, I became obsessed with jazz, and then the music of 20th century composers like Messiaen and Ligeti. At the same time, I was exploring the London rave scene and listening to electronic music pioneers like Aphex Twin, Squarepusher and Amon Tobin.
I went on to study composition at Dartington College of Arts in southwest England, where my mentor was the experimental composer Frank Denyer. Right after graduating I went to New York to undertake an intensive course at the Centre for Improvisational Music, where I took lessons with some of the city's most respected avant-garde musicians, including musical heroes of mine like Tim Berne, Vijay Iyer and Steve Coleman. Back in London, I was the only guitarist in my year accepted onto the Jazz MA at the Royal Academy of Music, graduating with one of the highest marks the conservatoire has ever given for a final recital.
By this time, I was heavily involved in the UK's experimental music scene, playing with leading artists like John Butcher, Kit Downes, Oren Marshall and many others. I formed numerous bands, including the award-winning quartet Blue-Eyed Hawk, the Sephardic music group Sefiroth, and the electric guitar ensemble Future Currents. Other long-time collaborators include singer/songwriter Alice Zawadzki (whose debut album China Lane I co-produced), Mercury Prize nominee Laura Jurd, and Orcadian fiddler/singer/songwriter Catriona Price.
I have a passion for interdisciplinary collaboration and have worked with choreographers, poets, painters, sculptors, theatre artists and film-makers. I've also played on numerous soundtracks for TV shows like Black Mirror and Silent Witness. Of particular relevance to the world-building concept behind Spectres is Arvoles Lloran por Luvia, the multimedia theatre performance I created, produced, directed and performed in back in 2013. Based around a suite of Sephardic folk ballads I re-imagined for my band Sefiroth, the show weaves the lyrics of the songs into an epic narrative heavily inspired by the ancient mysticism and symbolism of the Kabbalist tree of life. The combination of music, story-telling, choreography, stage design and digital art was an early attempt to create immersive experiences around my music.
Despite being involved in so many projects, or maybe because of this, I felt that I didn't really have an outlet for the music I would dream up when left to my own devices, with no looming deadline or performance constraints to work within. So after making a dozen or so records under various band names, I started teaching myself how to engineer and produce my own music.
"How can I be substantial if I do not cast a shadow? I must have a dark side also If I am to be whole." — C.G. Jung
Supersigil
By the time coronavirus hit, I'd been experimenting with self-producing for a few years, but I hadn't yet released any of this music. When all my live projects got cancelled, I renewed my focus on the tracks I'd been privately working on. The pandemic has been an intense time for us all, and I've had some personal crises during this period that led me to start working through past traumas (an ongoing process). Discovering Jungian psychology has helped me to contextualise and metabolise my encounters with mental darkness, and I began channelling this energy into the tracks I had been accumulating. During lockdowns, this music became a realm of infinite possibility I'd escape into, where some of my most personal ideas found expression. The material was so different from a lot of other stuff I'd done—and the process so uniquely intense—that it made sense to create a new identity for it to exist under.
Supersigil became my shadow self.
I mean this in the Jungian sense of accessing a part of my unconscious where previously latent and often terrifying truths lie. But I also mean it quite literally: the insomnia I've always suffered from got much worse during the pandemic, and so I'd work on this music at night, becoming entirely nocturnal for weeks at a time.
"Nights through dreams tell the myths forgotten by the day." — C.G. Jung
The alias—as with the names of all my projects—is very important to me. A sigil is a symbol used in ritual magic to represent and manifest a desired outcome. A supersigil (or hypersigil, as DC Comics writer and occultist Grant Morrison calls it) is an extension of this concept applied to a work of art as an act of sigilization. Tying Jung's ideas about psychology and alchemy together with this notion of art being a multi-dimensional means of self-actualisation, Supersigil became my alter ego.
During the five years that I've been working on the debut Supersigil album, so much has happened, both personally and globally: I relocated from London to Kraków, got married, became a father, formed two new bands, and got to work with musical heroes like Arve Henriksen, Savina Yannatou, Mikolaj Trzaska and Olga Szwajgier; meanwhile there was Brexit, coronavirus, and the ongoing war across the border in Ukraine, my ancestral homeland. All of these experiences found their way into the record in some way, even if I myself can't explain exactly how. (If I could, I don't think I'd need to make music.)
"The privilege of a lifetime is to become who you truly are." — C.G. Jung
My web3 journey
I had been casually following what was happening with blockchain tech since hearing about Imogen Heap's Mycelia project around 2018. Mat Dryhurst was another early inspiration whose writings got me thinking about how web3 (though it wasn't yet called that) could unlock new potential for non-mainstream artists like myself. I was among the first artists on Audius in its first year. But it was only as NFTs were taking off in early 2021 that the dots started to connect. I realised that the new tools being created would enable me to combine all the different strands of my artistic practice in a powerful way: the passion for immersive storytelling I'd honed through years of creating music for theatre, dance and film productions; my highly collaborative approach to making art; the freedom I'd found as an in(ter)dependent artist working outside the mainstream.
I released my first NFT in March 2021: an audiovisual collaboration with video artist Morgan Beringer. At the time, none of the music NFT platforms existed yet, and OpenSea didn't even have a music section.
Further collaborations ensued with filmmaker aAron Munson, painter Serhiy Savchenko, and animator Animatttic. These individual pieces were small yet invaluable steps on my web3 journey, and now I'm ready to make a giant leap.
"Your visions will become clear only when you can look into your own heart. Who looks outside, dreams; who looks inside, awakes." — C.G. Jung
The virtual world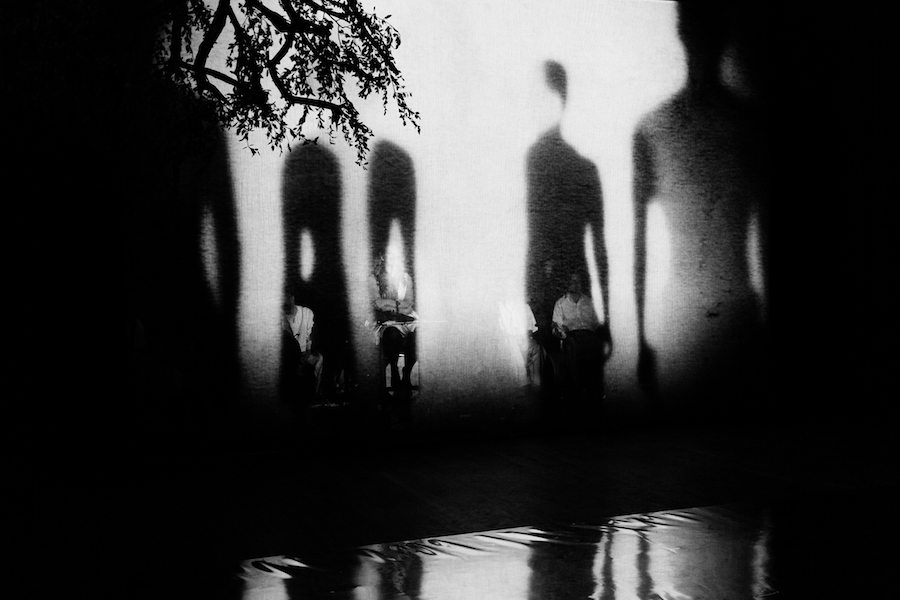 I've spent much of the last decade composing for dance, theatre and film productions. I love when my music is heard as part of a multidimensional experience in which narrative, memory, visuals and movement combine to create a feeling of transcending time and space.
But that magic is difficult to conjure in a digital music release, where there's no shared space in which to gather. While I appreciate the convenience of music streaming, I envision a fuller artistic offering—and a deeper connection with listeners—than Spotify et al can facilitate.
To achieve this with my releases, I've realised that I need to craft the experiential context around the audio to an extent that is only now becoming possible with the emergence of web3 tools.
That's why I'm manifesting Spectres as a fully-fledged virtual world, custom-built around the 13 pieces on the album. I regard this as an evolution of my work in multimedia theatre and film-scoring, making use of new tools to create the ideal setting for my music.
As mentioned above, the concept for the virtual world is based on my exploration of Jungian psychology and Joseph Campbell's writings on mythic traditions, which I've been deeply affected by while working on the album. Each of the 13 tracks is named after a Jungian archetype—a universal symbol that lives in our collective unconscious. These primal forms will be embodied by characters who live in the virtual world, each with their own realm.
To listen to each track, you visit the corresponding character's realm, where their story begins to unfold around you through virtual choreography and animation. The individual narratives of all the characters interweave to create a meta-narrative for the album/experience as a whole.
Imagine a series of 3D, explorable music videos or, as I think of it, immersive music theatre for the metaverse era.
"All the gods, all the heavens, all the hells, are within you." — Joseph Campbell
The team
I am humbled to be collaborating with the following artists:
Rafael Anton Irisarri (mastering engineer at Black Knoll Studio, NY). Rafa mastered my debut single "Brocken" and has worked on records by some of my favourite artists including Ryuichi Sakamoto, Loscil and Resina.
Josh Chaplin (multidisciplinary digital artist and meta architect) will build the virtual world. Check out his project The Core for an example of a bespoke virtual environment for digital art.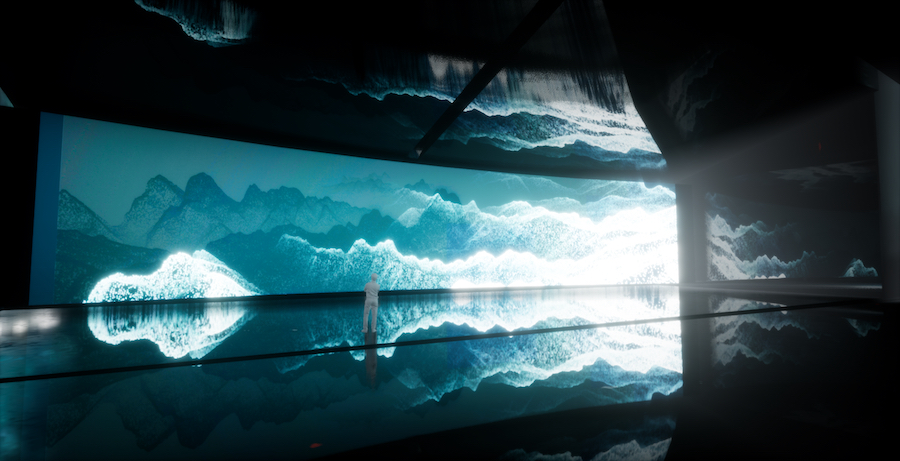 Leilani Franco (Guinness World Record holding contortionist and creative technologist) will use movement data capture technology to create choreography for each character.
Sneha Belkhale (tech artist) will map the dancer's movement data onto the characters' in-world avatars to convey their narratives.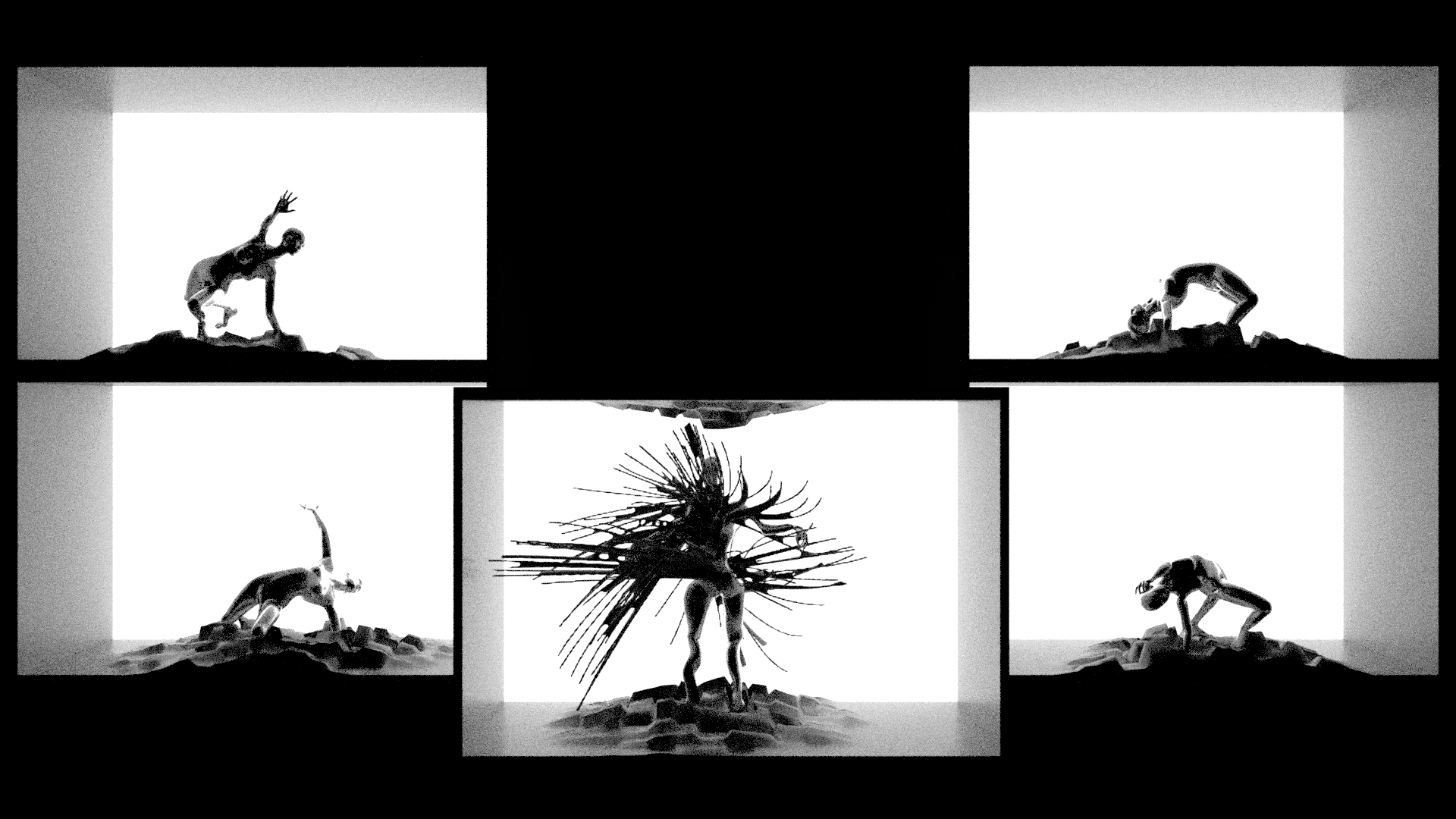 "Whatever is rejected from the self, appears in the world as an event." — C.G. Jung
The NFTs
Alongside the music and virtual world, a key component of the Spectres experience is a suite of five NFT collections with differing utilities in the project's ecosystem. To reward those who join the Spectres community early on, the first two NFT drops (Spectrograms and Music NFTs) each grant holders discounts on the next collection in the series, as well as a host of other utilities detailed below.
1. Spectrograms
13 editions of 13, price ascending with each edition from free to 0.05Ξ
13 visual artworks created using the audio of the tracks on the album. A spectrogram is a visual representation of frequency and amplitude over time. Using an open-source program developed in the Centre for Digital Music at Queen Mary University of London, I created images that not only capture the way the music feels to me but also reflect my love of abstract artists like Rothko, Soulages, and Klein.
Each Spectrogram NFT is an edition of 13 and includes the following:
a discount on the next drop in the album's suite of NFT collections (the Music NFTs);

a private listening party for Spectrogram NFT holders: be the first to hear the complete album, before the music NFTs drop and before it hits streaming platforms;

2 free tickets to any live or virtual Supersigil show, for life.
Bonuses:
collect 5 different Spectrograms and mint my next drop (the Music NFTs) for free;

collect an edition of all 13 Spectrograms and mint my next two drops for free (Music NFTs plus Portrait NFTs).
A note on the mechanics of this drop:
This collection contains all 13 editions of all 13 Spectrograms = 169 NFTs. These will be released sequentially in batches of 13 i.e. one Spectrogram at a time. Once all 13 Editions of Spectrogram #1 have been minted, the contract will automatically change the asset subsequently being minted to the Spectrogram #2. In other words, mints 1–13 are Spectrogram #1, mints 14–16 are Spectrogram #2 etc. Prices ascend through the Fibonacci series with each Spectrogram, eventually resting at .05Ξ
So:
Spectrogram #1 (mints 1–13) = free
#2 (mints 14–26) = .01Ξ each
#3 (mints 27–39) = .01Ξ each
#4 (mints 40–52) = .02Ξ each
#5 (mints 53–65) = .03Ξ each
#6–13 (mints 66–169) = .05Ξ each
Minting is limited to one Edition of each Spectrogram per wallet (so 13 NFTs in total). After each Spectrogram mints out I will manually release the next one. To be notified when each new Spectrogram is released, drop your email here:
2. Music NFTs
13 editions of 13 @ 0.08Ξ per track (or 0.05Ξ for holders of Spectrogram NFTs)
Stage One will culminate in the release of the 13 tracks as Music NFTs, one drop per week leading up to the album hitting streaming platforms. We'll celebrate each drop with a listening party.
The Music NFTs also give holders a discount on character Portraits during Level Two of the project (see drop #3 below).
3. Character Portraits
26 editions of 13 @ 0.13Ξ each (or 0.08Ξ for holders of Spectres Music NFTs)
The characters you will encounter in the virtual world are being designed with the use of experimental AI software that responds to text and/or image prompts. The resulting images are then refined, upscaled, and remixed in a process that, to my mind, parallels the way our collective unconscious produces and reproduces the symbols we call archetypes.
"Wholeness is not achieved by cutting off a portion of one's being, but by integration of the contraries." — C.G. Jung
Each character will manifest in two forms to represent the dual aspects of archetypes according to Jungian psychology. In addition to being highly collectible works of art, the Portrait NFTs will double as keypasses unlocking full access to the virtual world once it's unveiled. Certain areas of the world will be accessible to everyone, but to experience it in its entirety you must collect a Portrait NFT.
4. Secret Drop
13 editions of 13 (free)
5. Music videos
13 editions of 13 @ 0.21Ξ each
Each track will have its own animated music video, created in collaboration with animator Sneha Belkhale and movement artist Leilani Franco. Filmed inside the virtual world using motion capture technology, each video will reveal the corresponding character's individual lore and their role/destiny in the meta-narrative. These will be dropped in editions of 13 in partnership with Glass, the leading video NFT platform.
Outro
Thank you so much for reading. I hope you'll join me on this journey and become part of the Spectres community by minting a Spectrogram above.
Don't forget to drop your email here to be notified when each new batch is released.
And for the latest updates, check my Twitter .